Please click on images to view in full - previews are cropped.
Friday afternoon is a sacred time. It marks the beginning of the weekend and that means there is no excuse to not load up and hit the road.
In a spur of the moment decision, I booked accommodation in Halls Gap at the base of the Grampians National Park. With very little convincing, fellow photographer Matthew Booth, our mutual friend Daniel, and my fiancee, Eddie, signed up for a weekend away in the mountains.
Driving 3 hours west of Melbourne, we arrived in Halls Gap late in the night and set plans for the sunrise the next morning.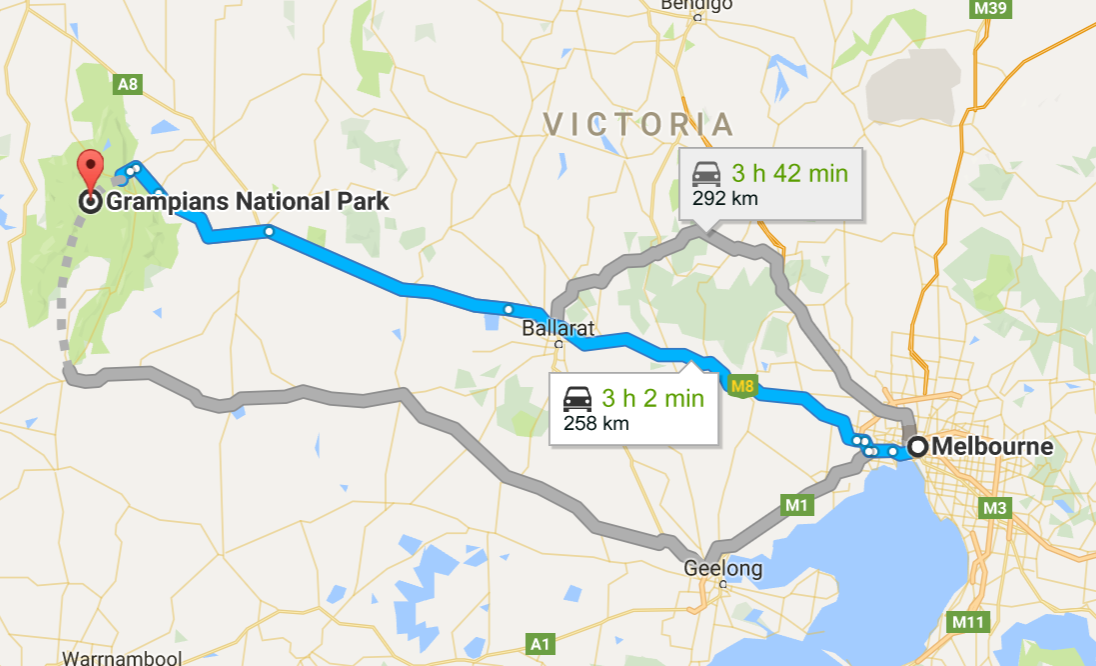 An early, and freezing cold, start at around 5-6AM was a less than favourable way to kick off a weekend of photography, but that's a part of what makes capturing great images so rewarding. I read a post online once that stated: "while they sleep, we shoot". I try to remember that when I'm dragging myself out of bed.
Those moments when you're standing somewhere isolated, in your own part of the world, watching the first light of the day crawl over the horizon are golden. Not to mention, how ecstatic you are that your trackies fit snugly underneath an extra layer of jeans.
Despite it not facing directly towards the sunrise, we made the journey up the mountains to The Balconies to shoot. This is an amazing location in which you can stand on the edge of rocky outcrops and look out over a grand vista. As the sun poked through the valley, I captured this image of Daniel sitting on rock shelf known as the Devil's Jaw.
I've seen a lot of photographers condemn selfies but, in my opinion, if you can take a great one, why not?
As we begun the walk back to the carpark, we climbed up onto some of the huge rocks to look out over Wartook Reservoir. The sky was still glowing as the light made its way across the valley onto the peaks of the mountains on the western side.
With the sunset concluded, we ventured back down the mountain to our motel and went back to sleep for a few hours before acquiring the lifeblood of all adventures, coffee, and heading back up into the mountain range.
Weaving around the mountain roads, we made our first stop off at Silverband Falls. A short walk through peaceful forests under a light drizzle. The thin trickling fall lived up to its name. A silver band standing out against its rocky background.
I struggled to find a composition that I felt captured this location adequately but not for lack of trying. It was difficult with the rain picking up and a lot of the ground turning to slush where I wanted to shoot from. I also didn't attach a polarising filter, poor choice, which would have cut down on the distracting reflections from the water on the surrounding rocks. Filters, filters, filters! Despite not feeling completely satisfied, I accepted the images that I had captured so far and we made tracks for the car.
I feel it's important to add that when I leave a location dissatisfied, I don't consider it a failure. I've come away learning from that location and with new ideas on how to tackle it when I inevitably visit it again.
By now, our day of adventuring had carried itself into the afternoon. We got to Boroka Lookout which has a stunning panoramic view over Lake Bellfield, Halls Gap and the surrounding farm region. Thankfully, I have free streaming of the AFL on my mobile phone, enabling us to catch up on some footy while we ate lunch.
Leaving Boroka, we made way towards the Grampians' most well-known feature, MacKenzie Falls. Having been to MacKenzie Falls before, I encouraged a detour to a lesser known site in Broken Falls. Despite a full carpark and it only being a short walk, we were completely alone. MacKenzie was clearly the drawcard for everyone.
Broken Falls don't offer a variety of interesting vantage points or options for compositions. There is one viewing platform, however, if you look carefully you can see the remnants of an older path that leads you through some thin shrubs and trees to a rock ledge. It offers a slightly more generous view of the falls, in particular, the lower section (which is more appealing, to me).
Boothy is more of a film photographer and has a very quick eye, whereas I tend to be quite slow in finding a composition that I like. As I've written about before, it is something that I am constantly working on. Add to that a tripod, shutter trigger and filter kit and you're in for a much longer set-up time...
A.K.A see who can skip a rock furthest into the river. It's important to find pass-times when out for landscape photography.
45 minutes to sunset. The countdown was on and the internet service was off. No GPS and I forgot to bring a map. We attempted to find a great location for sunset the old school way - hit the road and adventure.
Bad idea this time. 40 minutes later we had made it to the outskirts of Horsham and were racing back up the mountains. We settled on Reeds Lookout, another location that I have shot before. I'm not overly fond of it as it really only offers the vista and no 'exciting' foreground features. Just to be sure that I would have something to take from this, I snapped a quick hand-held image on my way up to the lookout.
I set up close to the edge to avoid having a spattering of other photographers in my image. Boothy was not far to my side with Eddie, and Daniel went off wandering along the cliff edges.
Unfortunately, the sky never 'popped' and captured the colour we were hoping for. I did capture the image below, with the sun lighting up the mountain range before it disappeared under the horizon.
And then it was gone. Less than 5 minutes later, colourless and cold. This is why I think it is important to always arrive early and capture a few images along the way. They may just be the only ones that capture the scene how you saw it. A busload of photographers arrived at the scene that we were shooting and would've walked away with images that resemble this:
This is just one of many reasons why I have a simple app on my iPhone that uses my geolocation to tell me when the sunrise/set will begin, what time it will peak and what time it will be fully over. Knowing when golden hour starts/ends can be so valuable when your conditions aren't looking like a guaranteed banger.
That rounded out day 1. Astrophotography was thrown out the window by cloud cover.
Day 2 was a two task affair: MacKenzie Falls and driving home.
MacKenzie Falls are, based on my experiences in the Gramps', the peak attraction. It is incredibly busy and this can make it a very difficult location to shoot. Even in the rain, as we found out. My advice is to go in Summer so that you can climb the surrounds for an unobstructed vantage point and, if it doesn't pay off, you can still make great use of your time by swimming here. (This may no longer be permitted, so you'll need to check)
The biggest challenge at MacKenzie Falls is exposing an image that is not flooded with people. As the best perspective is across the flow-out to the river, I made my way across the slippery stepping-stones and set up in hiding behind some rocks. It was raining (not heavily) while we were there and so I was constantly battling with setting focus, calculating shutter times, wiping water off filters, and other visitors who were apprehensive about crossing the wet stones and so resorted to just standing at the edge, confused.
I do not feel that I have conquered MacKenzie Falls properly yet. The massive amount of spray that this huge fall shoots into the air makes it so hard to get a crisp shot. Mine has a few water splodges on it that I just can't remove cleanly. I considered not including it in this blog but I think it's a fairly decent composition.
Now, what I think is more worthwhile (for photography) than MacKenzie Falls are the smaller sections of falls in the descent to the main fall. There are levels of interesting smaller falls that can be photographed from the comfort of viewing platforms or from interesting perspectives for those of us lucky enough to have waterproof tripods.
This is what you need to know to shoot these smaller falls: be patient. Wait for other photographers, tourists and selfie-takers to slip out of the way and get your composition perfect. Case in point: see the two images below. I rushed both of these by slotting myself in amongst other people rather than getting the composition right from the get-go. They might work with some cropping, but in general, they're a clear-cut example of why it's so important to be patient.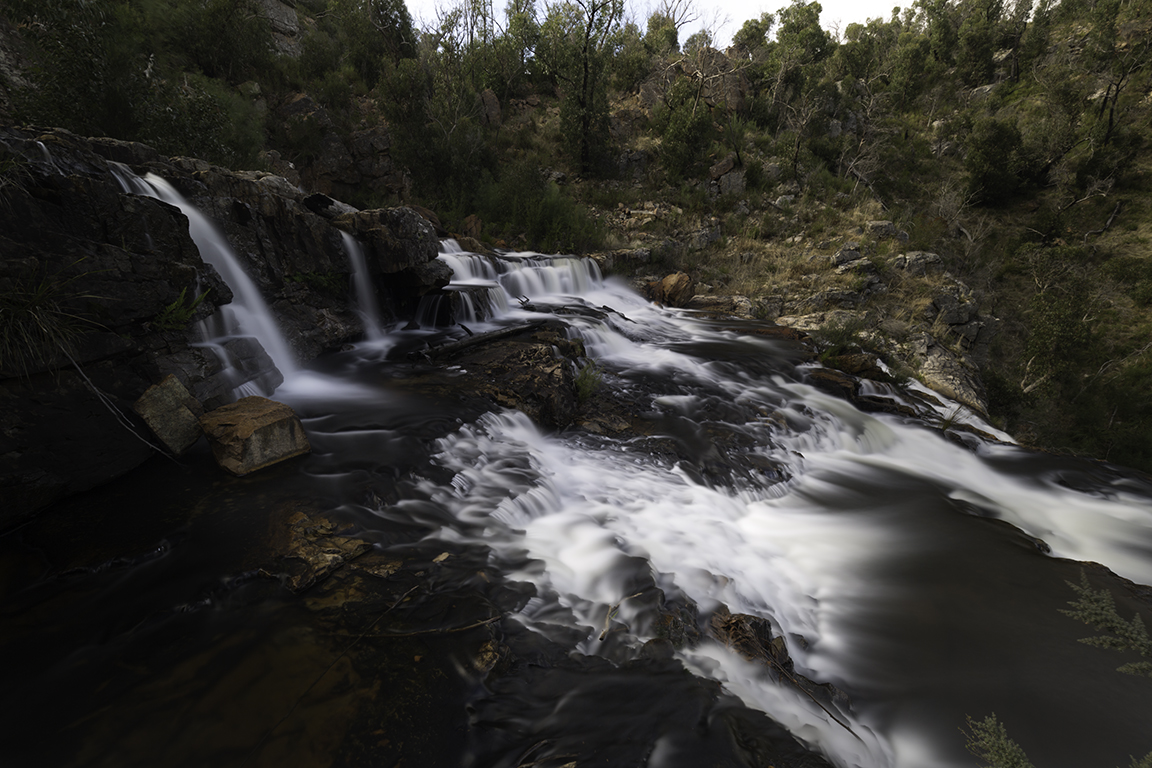 I found my composition by looking through my viewfinder, handheld, for the below image. Then waited. Once I could get a clear space to set up my tripod, I polarised and added a 10 stop ND filter, locked my cable release and counted out the seconds...
1 minute and 41 seconds later, I had my favourite photograph from the trip.
Home time to begin planning the next adventure.